How to Find Colette and the office of Eclectic Healing Guide
Eclectic Healing Guide is located in Raleigh Hills within the Scholls Crossing Center.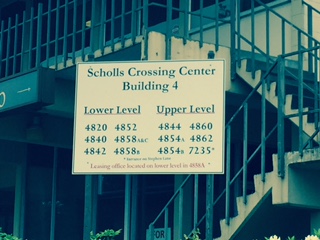 IMPORTANT NOTE: the suite numbers are not in logical
order. I'm 4842 which is next to 4852. It will be most important
for you to drive to the far end of the parking lot and look for the
My Purple sign, before you start to look for #s!!!!
Our address:
4842 SW Scholls Ferry RD
Portland, OR 97225
We are very near the 6 corners intersection of Beaverton Hillsdale Hwy, Scholls Ferry and
Olson RD. At this intersect on our side of the road you will see Six Corners Cafe and
Sesame Doughnuts.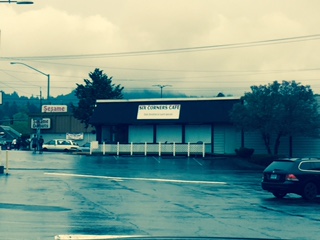 The Sign you may see before ours, forward to the above picture business' is Scholls Plaza
featuring West Coast Drinkery
With a smaller Raleigh Hills sign on the electric Pole near the sidewalk.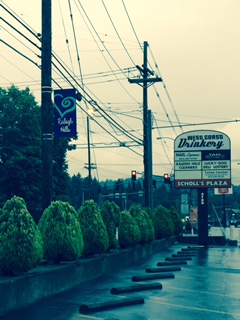 Across from the 7 Eleven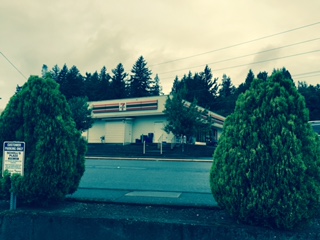 Is the entry for our parking lot where you will see our sign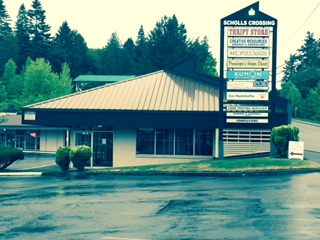 We are shaped like an L. My office is on the long part of the L.
Drive toward the back. Look for my Sign
I lock the door while in sessions. You will see the In Session Sign on the door.
Please don't arrive more than 10 mins early.
If you arrive more than 15 mins early there should be a spot right in front for you to
park and wait in your car. When the door is unlocked and I'm available you will see
a door open sign.
Thank you and See you soon.